4 Reasons to opt for Made in India - Ahuja Felts

LONG LASTING
TWO TIMES longer than the competition – High grade raw materials & best-in-class manufacturing practices ensure our Polishing Felt lasts really long.
CONSISTENCY
A dense, uniform design gives consistent output, even after days of usage.

CUSTOMIZATION
Can be manufactured & delivered to defined specifications, whether your need is for gemstones, or metal or any other surface.
VALUE FOR INVESTMENT
High quality, long-lasting felt that results in highest return on your investment – excellent value for money.
WATCH QUALITY
IN ACTION
Ahuja Felts is a global supplier of high quality, superior felt products, proudly manufactured in India.
We export quality felt, customised as per your requirements. With the capabilities to manufacture over 200 customised options, we are equipped to cater to any felt requirement in the shortest possible time.
Twice the profits
with just one decision
With just one decision of switching to Ahuja Felts for your felt requirements, we can guarantee a minimum 2X increase in your profitability, because of lower costs incurred in polishing/buffing per product.
Experience the full range of Polishing & Buffing Felt – Discs, Wheels, Knife-edged, Bobs, with fittings etc. Any level of customisation is possible – simply mail us at [email protected] with your requirements & we shall revert with our best quote in 24 hours!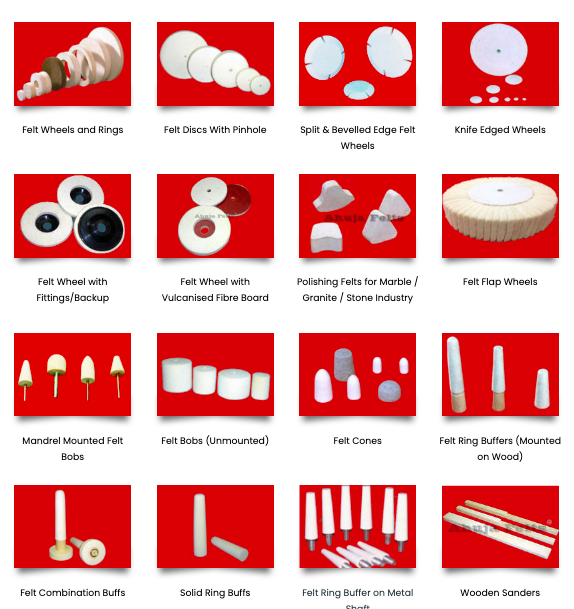 We are keen to cater to your felt requirements.
201%
Efficiency of our Felt over competition