Felt Wheels and Rings
| | | |
| --- | --- | --- |
| Diameter | Density | Thickness |
| 100mm and above | From 0.20 GM/C3 to 0.90 GM/C3 | 10mm and above |
Special sizes are made as per request.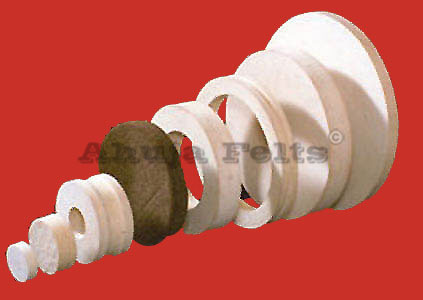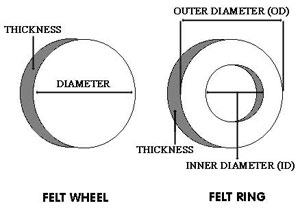 Wool Felt Wheels and Rings are used for Polishing, Buffing & Scratch removing on a wide variety of surfaces such as metals, plastic, marble, granite & glass.
Wool Felt Wheels & Rings have the ability to accept all types of polishing compound and slurries hence a unique example being an "ideal friend" of polishing materials.
Felt Rings are extensively used in on the final section of beveling machines to polish the frosted surface of beveled glass to an optically clear finish.
Below are standard sizes. We also make as per customer's size requirements.
Size (Dia x Thickness)
Item code
In mm
In inches
Soft
Medium
Hard
Rock Hard
100×12
4 x ½"
2110012
2210012
2310012
2410012
100×20
4 x ¾"
2110020
2210020
2310020
2410020
100×25
4 x 1″
2110025
2210025
2310025
2410025
100×32
4 x 1 ¼"
2110032
2210032
2310032
2410032
100×38
4 x 1½"
2110038
2210038
2310038
2410038
100×44
4 x 1 ¾"
2110044
2210044
2310044
2410044
100×50
4 x 2″
2110050
2210050
2310050
2410050
125×12
5 x ½"
2112512
2212512
2312512
2412512
125×20
5 x ¾"
2112520
2212520
2312520
2412520
125×25
5 x 1″
2112525
2212525
2312525
2412525
125×32
5 x 1 ¼"
2112532
2212532
2312532
2412532
125×38
5 x 1½"
2112538
2212538
2312538
2412538
125×44
5 x 1 ¾"
2112544
2212544
2312544
2412544
125×50
5 x 2″
2112550
2212550
2312550
2412550
150×12
6 x ½"
2115012
2215012
2315012
2415012
150×20
6 x ¾"
2115020
2215020
2315020
2415020
150×25
6 x 1″
2115025
2215025
2315025
2415025
150×32
6 x 1 ¼"
2115032
2215032
2315032
2415032
150×38
6 x 1 ½"
2115038
2215038
2315038
2415038
150×44
6 x 1 ¾"
2115044
2215044
2315044
2415044
150×50
6 x 2″
2115050
2215050
315050
2415050
175×12
7 x ½"
2117512
2217512
2317512
2417512
175×20
7 x ¾"
2117520
2217520
2317520
2417520
175×25
7 x 1″
2117525
2217525
2317525
2417525
175×32
7 x 1 ¼"
2117532
2217532
2317532
2417532
175×38
7 x 1 ½"
2117538
2217538
2317538
2417538
175×44
7 x 1 ¾"
2117544
2217544
2317544
2417544
175×50
7 x 2″
2117550
2217550
2317550
2417550
Size (Dia x Thickness)
Item code
In mm
In inches
Soft
Medium
Hard
Rock Hard
200×12
8 x ½"
2120012
2220012
2320012
2420012
200X20
8 X ¾"
2120020
2220020
2320020
2420020
200×25
8 x 1″
2120025
2220025
2320025
2420025
200×32
8 x 1 ¼"
2120032
2220032
2320032
2420032
200×38
8 x 1 ½"
2120038
2220038
2320038
2420038
200×44
8 x 1 ¾"
2120044
2220044
2320044
2420044
200×50
8 x 2″
2120050
2220050
2320050
2420050
250×12
10 x ½"
2125012
2225012
2325012
2425012
250×20
10 x ¾"
2125020
2225020
2325020
2425020
250×25
10 x 1″
2125025
2225025
2325025
2425025
250×32
10 x 1 ¼"
2125032
2225032
2325032
2425032
250×38
10 x 1 ½"
2125038
2225038
2325038
2425038
250×44
10 x 1 ¾"
2125044
2225044
2325044
2425044
250×50
10 x 2″
2125050
2225050
2325050
2425050
300×12
12 x ½"
2130012
2230012
2330012
2430012
300×20
12 x ¾"
2130020
2230020
2330020
2430020
300×25
12 x 1″
2130025
2230025
2330025
2430025
300×32
12 x 1 ¼"
2130032
2230032
2330032
2430032
300×38
12 x 1 ½"
2130038
2230038
2330038
2430038
300×44
12 x 1 ¾"
2130044
2230044
2330044
2430044
300×50
12 x 2″
2130050
2230050
2330050
2430050
350×25
14 x 1″
2135025
2235025
2335025
2435025
350×38
14 x 1 ½"
2135038
2235038
2335038
2435038
350×50
14 x 2″
2135050
2235050
2335050
2435050
400×25
16 x 1″
2140025
2240025
2340025
2440025
400×38
16 x 1 ½"
2140038
2240038
2340038
2440038
400×50
16 x 2″
2140050
2240050
2340050
2440050
450×25
18 x 1″
2145025
2245025
2345025
2445025
450×38
18 x 1 ½"
2145038
2245038
2345038
2445038
450×50
18 x 2″
2145050
2245050
2345050
2445050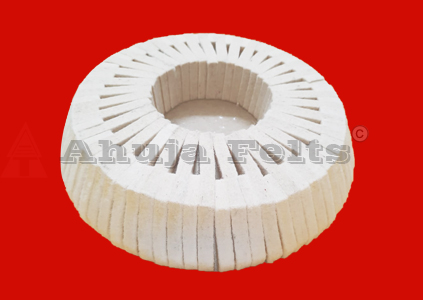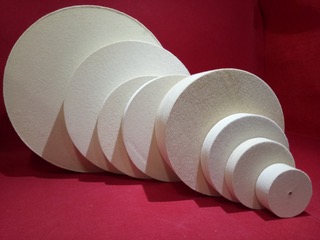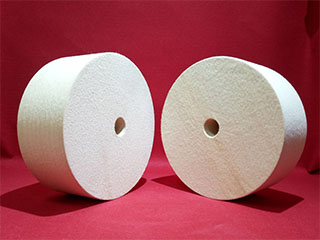 Felt Wheels Dimension: OD 300 Thickness 120
and ID 42 mm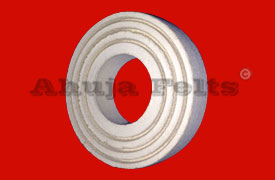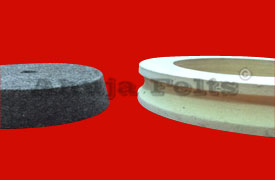 Grey wheel tapered and Felt Wheel with Groove